30 days til' Halloween Night - New Store just in time! ?
The kids have gone back to school, the University Fresher fairs are over, the days are shortening and there is a chill in the air. That can only mean one thing... HALLOWEEN!! Let's be honest Halloween is the best time of the year, horror movies, scary fancy dress costumes, pumpkin carving what more do you need in life? We are selling adult fancy dress costumes this Halloween from £10 and kids Halloween outfits from £5! Well lucky for us it is only 30 days away!!! Now is the time to get festive, spooky style and to plan your Halloween fancy dress outfit now!
To help make your Halloween shopping that little bit easier we are reopening a new store in Bournemouth Town Centre. In fact, it opens today which gives you a month to get your act together and come into store or shop online for your horror goodies! Not only is Bournemouth Town a convenient location for shoppers and students but it also means we have been able to open a much bigger and better store then ever before!
Just head to 102 Commercial Road, Bournemouth, BH2 5LR and start your Halloween shopping now, or call on 01202 554652. It's up near the Triangle (just past Ann Summers). Click the link here to view a map to the new shop now!
Our Shops
There are thousands of new lines which have arrived in all stores - each store has lots of individual product to give variety, so you are guaranteed different shopping experiences in each store. So make sure to pop down to each one of our stores and don't miss out:
Castle Lane West,
31-35 Castle Lane West,
Bournemouth,
Dorset,
BH9 3LH
View location here and call us on 01202 532262.
Poole Town Centre,
Unit 84,
Dolphin Centre,
Poole Town Centre,
BH15 1SZ
Click here to view location and call us on 01202 660841.
Hollywood Just For Fun,
31-37 Queensway,
Southampton Town Centre,
S014 3BL
Check out the location here and call us on 02380 221494.
Need inspiration?
If you've managed to make it to the cinema lately you'd know of the demon which is the Nun! Haunt a cloister near you in this scary habit! Re-enact scenes from The Nun movie and listen to your audience scream. If you belong to an order with an unholy secret, this is your invitation to be demonic and go… out of order! This terrifying adult fancy dress outfit comes complete with a Black and White Habit and Latex Mask to finish off the look. A must-have for Halloween!
Remember the big horror block buster from last year? Stephen King's IT of course! Well the powerful infatuation this demonic clown casts still hasn't gone away! Capture every last detail of scary clown Pennywise with this Grand Heritage Edition. This fantastic scary Halloween fancy dress costume comes complete with a Ruffled tunic, trousers with ruffle and overhead mask with faux hair. This adult dressing up outfit is of deluxe quality and people will actually think you've stepped out of the TV!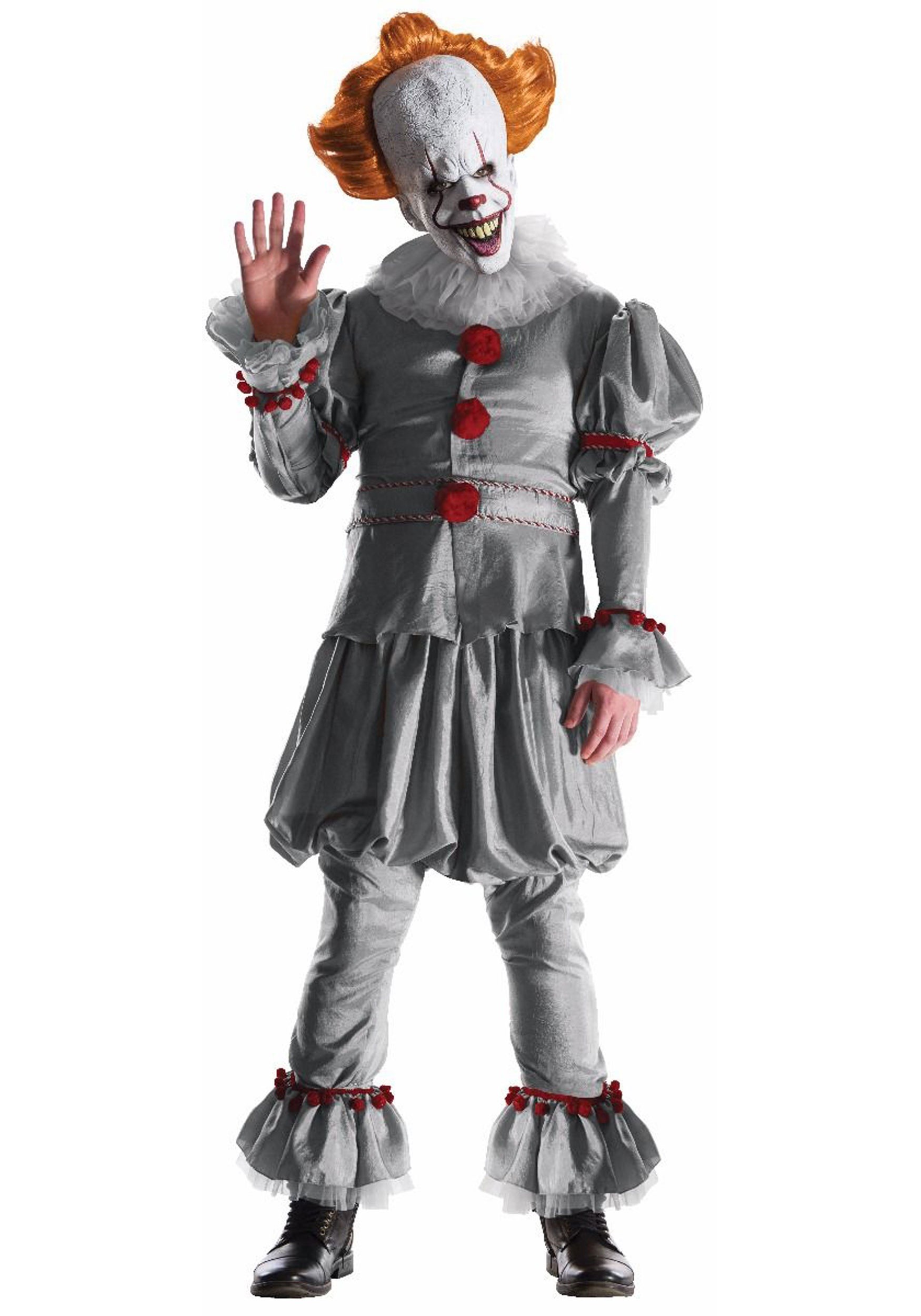 The Zombie Fairytale/ Disney collection is still very popular among the ladies! From Elsa to Belle and all of the Disney princesses you know, just not as you know them! This brilliant ladies' Halloween Zombie Malice fancy dress costume is ideal for the ladies out there that love Alice in Wonderland! This gorgeous yet horrific adult dress up costume includes a blue dress with latex chest, white blood stained apron and a matching red headband to complete the look.
Bargain fancy dress costumes!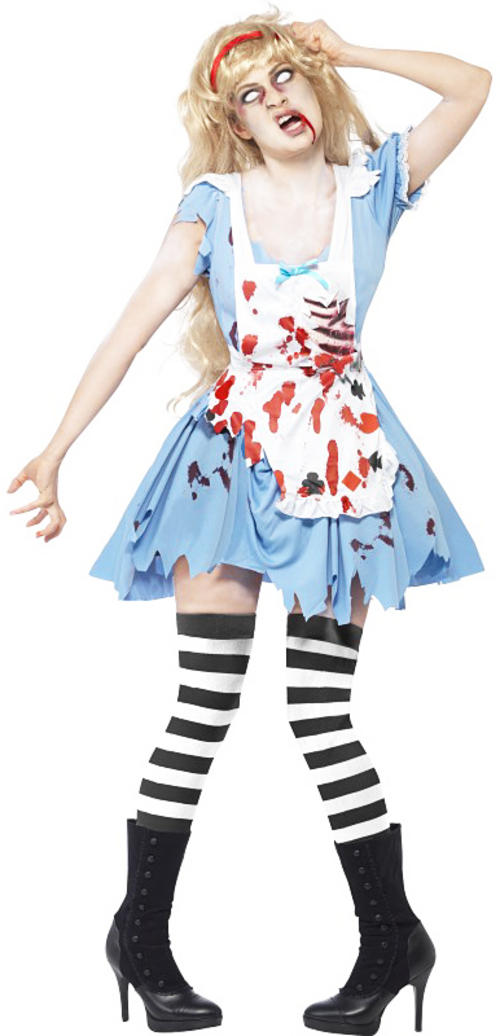 The curl of her lips, the ice of her stare, all innocent children had better beware… Baddies are much more fun than goodies and you'll have loads of fun as Kruel-ela! Just cast your eye on one stray pup and the other 100 will run a mile! This gorgeous ladies' Cruella De Vil inspired fancy dress outfit comes complete with a Black and White spotted dress with Dalmatian Print. The dress also has an attached collar and separate, long black sleeves to finish off the look. The best thing, it's on sale for only £10 - what a bargain!
This spooky Zombie Jail Bird Costume is a must-have for any lady looking to break free! Break out of prison in search of Brains with this incredible adult Zombie Jail Bird dressing up costume. It comes complete with a Black and White striped Dress with red blood splatter and a matching Hat. It's in stock in all our stores including our new store and above all is only £13.99!
Zombie Pilot Costume. This terrifying Zombie Pilot Costume is ideal for anyone looking to dress as a dead Pilot! This spooky adult fancy dress outfit comes complete with a Bloody White Shirt with attached Lapels, Black Trousers, Black Tie and Hat with Attached Pilot Symbol. Even more, it's less then £15!!
This brilliant men's Deluxe Mariachi - Day of the Dead fancy dress Costume is ideal for anyone looking to dress as a Day of the Dead gent! This fantastic Horror outfit comes complete with a Black and White Jacket, Trousers, White Shirt Front, Red Tie and Matching Sombrero Hat to finish off the look. It's a must-have this Halloween!
This fantastic ladies' Day of the Dead Senorita dressing up Costume is ideal for any lady looking to finish off that Mexican Day of the Dead themed outfit! This cute costume comes complete with a Red, Black and White Dress with a Skeleton Print, Rose Veil and Red Armcuffs to finish off the look. Sexy and affordable!
Finish the look with a Mask!
Have you ever seen one of the Purge films? This terrifying Freaky Robber Mask is ideal for anyone looking to dress as a Scary Robber this Halloween! This brilliant flesh-coloured mask has a sinister grin and is made of plastic. It's of course inspired by the Purge and the Strangers! It's ideal for finishing off that adult fancy dress attire!
This LED Neon Green Light Up Mask is perfect for anyone looking to terrify in the dark this Halloween! This scary mask is black with attached Green Cross Eyes and Stitched Up Mouth. This is what nightmares are made off. Essential for the adults this Halloween!
Why not go as the classic Hellraiser this Halloween? With this Pinhead mask, you're sure to frighten the neighbours this Halloween! This fantastic fancy dress mask is of deluxe quality, looks very detailed and is only £14.99! Halloween has never been so affordable!
Make-up is a gal's (and men's at Halloween) best friend!
Latex Inverted Cross Wound Prosthetic. This brilliant Prosthetic is of an Inverted Cross and is perfect to add that scary, possessed look to any costume! It's Flesh coloured with Adhesive. Perfect for anyone who has seen the newest film from the Conjuring universe... the Nun...
Killer Clown Cosmetic Kit. This fantastic Killer Clown Cosmetic Kit comes complete with Aqua, Multi-Coloured, 3 Colours, Blood Tube, Nose, Teeth, Brush and above all a Sponge to finish off the look.
Accessories galore!
Straight from the screen of AMC's The Walking Dead: Negan's Bat Lucille Prop. This fantastic prop is made from top quality Polyurethane foam, giving it the most realistic screen used look and feel. The amazing finish on bat looks like a true wood finished with real steel barbs. You will swear that it's an actual Louisville Slugger, just like the bat used in the show, we even added the trademark black circle on the Bat. Negan's Bat Lucille is 36 inches. Because of this fabulous design, you will swear that this was the original screen used bat held by the most famous leader in the Walking Dead Universe, Negan. Deluxe quality.
This fantastic Double Headed Axe with the Plastic Wooden Effect Handle and Black Blood Splattered Axe Head is ideal for finishing off the serial killer fancy dress outfit this Halloween, even more it can be used for an executioner!
 This scary looking Voodoo Styled Top Hat is ideal for Halloween! It's Black with an attached skull and feathers. It's a must-have for Halloween. Look like the perfect Witch Doctor because no Halloween is half-hearted!
Finally, this brilliant Halloween horror Day of the Dead Tombstone Prop is a must-have for anyone looking to create a graveyard this Halloween! With a bright, candy coloured skull design it's essential for any Day of the Dead theme. Because the perfect Haunted House is essential!
So get ready for the most wonderful time of the year, Halloween of course! Check out our brand new store, because it's the biggest and best one - you are guaranteed to find the perfect fancy dress outfit, accessories, mask up etc!