Fireworks Galore Ready for Bonfire Night 2018
Get ready for fireworks galore this Bonfire Night! From Rockets to barrages we have all of them in store here at Hollywood Fancy Dress!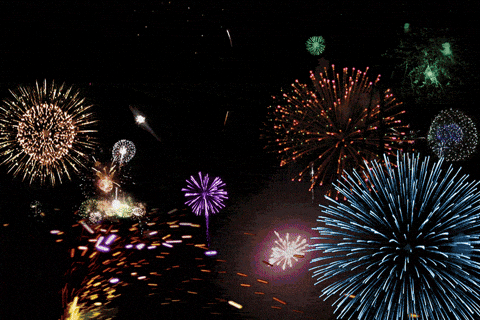 So why do we celebrate Bonfire Night?
Well, Guy Fawkes is the notorious terrorist behind the The Gunpowder Plot back in 1605. The Gunpowder plot was a failed attempt to blow up England's King James I (1566-1625) and the Houses of Parliament on November 5, 1605. ... Around midnight on November 4, 1605, one of the conspirators, known as Guy Fawkes (1570-1606), was discovered in the cellar of the Parliament building with barrels of gunpowder. Luckily, the plot was foiled. We celebrate Bonfire night as a way of celebrating that King James I survived an attack on his life. It's to remember events that happened 400+ years ago! Remember, remember the 5th of November, gunpowder, treason and plot. To learn more about Guy Fawkes click here.
Why Barrages?
Let's be honest no Firework display is a firework display without a barrage and here at Hollywood Fancy Dress - the bigger the better! First up is our most favourite and popular, Hercules.. the name sells itself!
What's so good about Hercules? This fantastic Barrage Firework which has 107 shots of pure strength and adoration. Obviously immortal, the exceptional strength of the original award winner is back, and this one isn't getting away-we have caged it !Now back in pyro mesh for ultimate impact. Straight, V and W Fan effects from this 107 Shot Single Ignition cake. Red purple starts with tails, green tail to green glitter, red white green tail to red white green wave, blue tail to blue brocade and a finale of whistling tails to crackling. Something to know if you have little ones, it does give off a high noise level.
Now, seeming as Halloween is still being celebrated this weekend why not have a somewhat scarier firework? This fantastic Firework Barrage is a must-have for anyone looking to set Bonfire Night off with a BANG! Effects include:- Palm bursts with coloured pearls, crackles and glitter. Rising pearls to big chrys and coloured or crackling pistil to dragon eggs and a big sky filling finale.
Smaller Barrages
For anyone with little ones, Minion is the obvious choice! This brilliant firework is a 24 shot Minion barrage cake firework. It has astounding effects that you wont believe as it is great value for the money. It fires straight up with dragon eggs, blue and red strobes, gold willow and green tip brocade and so much more so get the minion to get some hard work done and have fun. Keep the children happy with this bargain!
Exploding Cherries is another simple but effective barrage which is suitable for the kiddies! This impressive firework does what it says on the "tin". Let the cherries free and watch them explode and splatter, creating a mess masterpiece of the dark sky above. Ideal for family friendly parties and firework displays.
'Welcome to the Jungle, we've got fun and games'... that's certainly how you can sum up this next fantastic barrage: Welcome to the Jungle. It's a must-have for anyone looking to set the New Year off with a bang! It is a 36 multi-shot barrage firework and is guaranteed to add fun and colour to the party! It's duration is approximately 45 seconds long.
Rockets are essential!
The most popular rocket by far is of course, the KING! It's possibly the most beloved because it is a very BIG BANG firework! This Rocket really does put others to shame, The King has demanded his place back on his throne, and we really don't want to argue! Better then ever! Be prepared to be blown away!
There's something about Fireworks with the name KING in them that just makes them supreme! Introducing: King Cobra II! This amazing Rocket pack comes as a pack of 2 and is far better than its predecessor, King Cobra. This new and improved rocket pack just got better with its amazing effects that are now a lot cleaner, crisper and longer lasting so sit back and enjoy the show.
Another great purchase is the Black Widow Rocket set! It comes as a set of two. These monstrous rockets pack a real punch and each rocket has a different effect so will be sure to mesmerize everyone at your garden party.
If you are looking for multiple rockets then Total Impact is screaming out your name! This set includes 3 Rockets and is perfect for anyone looking to send their party off with a bang! This fantastic set has a twin burst effect.
Family friendly party? Selection Boxes are the way!
If you know there are going to be a lot of little ones running around then a selection box is for you! Our first one is cheap and noise friendly - Bonfire Deluxe! Contains 13 pieces from fountains, Catherine wheels and roman candles. Perfect for that little family back garden display.
The big one!
Now, Imperial is a big boy. He contains 50 fireworks and this includes an excellent selection on Rockets, Wheels, Barrages, Fountains and Roman Candles. Ideal for larger Firework gatherings. A truly exceptional collection.
Fanfare is another great selection, cheaper then Imperial and more Fireworks included then Deluxe Bonfire - Fanfare includes 23 fireworks in total and it's perfect for anyone on a budget!
Want something cheap and cheerful? By which I mean an £8.99 firework selection box! Let's be honest you aren't going to find one cheaper elsewhere! This one is called the Mighty selection box and it's called that for a reason... it may be small but wow, is it mighty! It includes 15 fireworks without bangers - so perfect for young children and pets!
Are you looking to defend Westeroes and destroy all the white walkers? Well then Wildfire is the selection box for you! This one is a big boy, but he's worth it! It's just the thing if you want to just buy one box of fireworks and be done with it! At the generous price of £99.99!
We also have Mines, Fountains and sparklers in stock now! At all our Firework stocked shops which includes Castle Lane West in Bournemouth, Bournemouth Town Centre in Bournemouth and Queensway in Southampton! Don't forget also if you are local and would like to reserve a firework you can purchase them online on our website and collect in store!
Hollywood Fancy Dress
31-35 Castle Lane West
Bournemouth
Dorset BH9 3LH
HOLLYWOOD FANCY DRESS
102 Commercial Road
Bournemouth
BH2 5LR
Hollywood Just For Fun
31-37 Queensway,
Southampton Town Centre
S014 3BL