Horror Movies | Halloween 2019
The best thing about Halloween is of course, the Horror Movies!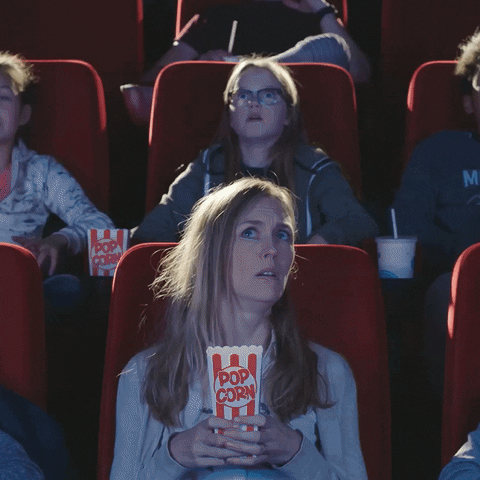 So why not go dressed as your favourite Horror Movie character for Halloween 2019?
1. Annabelle
"I like your dolls…" Fill the darkened house with chills as you emerge from your box, filled with mysterious, evil intent! This creepy and disturbing Annabelle costume is just the thing for any 'The Conjuring' fan out there! Comes complete with a floor length, white and red dress, plastic mask with scary doll face print and a blonde, plaited wig to finish off the look. This outfit is the perfect choice for Halloween! Before the Conjuring there was Annabelle!
Reawaken the goose bumps with Annabelle, the doll that's anything but innocent! Whether you've seen the movie or not, wear the mask and make it a Halloween to not forget! This creepy mask has Annabelle's face details and a separate blonde wig with fringe and plaits. Ideal for any 'The Conjuring' fan.
2. Friday the 13th
Proof that you can't keep a bad man down! Jason Voorhees is back, lurking around the shores of Crystal Lake, looking for rich pickings. With mask and machete at the ready, no one's going to trouble you – on Friday the 13th or any other day! This horrific costume kit comes complete with a grey, tattered shirt, iconic hockey mask and plastic machete to finish off the look.
Girls attending a Friday the 13th convention won't get left out. While boyfriends sport the full Jason kit, they can turn up at the door wearing this homage to the film's iconic hockey mask and machetes. And just look at the handbag! This sexy and psychotic costume is for those who love horror! This awesome costume comes with a black t-shirt styled dress with red stripes on and Jason's face on. To finish this costume of is a matching handbag of Jason's mask, fool everyone with this much needed accessory!
3. Nightmare on Elm Street
Men's Freddy Krueger Halloween Fancy Dress Costume. He first appeared in Wes Craven's A Nightmare on Elm Street (1984) as the spirit of a serial killer who uses a gloved hand with razors to kill his victims in their dreams, causing their deaths in the real world as well. In the dream world, he is a powerful force and almost completely invulnerable. However, whenever Freddy is pulled into the real world, he has normal human vulnerabilities.
This fantastic horror Freddy Krueger costume comes complete with  EVA Mask in the style of his burnt face and iconic green and red stripped jumper.
Check out this creepy costume from our Nightmare on Elm Street Collection - the perfect costume for any horror fan who wants to pay tribute to one of their favourite scary movies this Halloween. A Nightmare on Elm Street is a terrifyingly creepy 1984 supernatural slasher film directed and written by Wes Craven. The film is set in a small Midwestern town where several teenagers are stalked and killed in their dreams, which means that they are also killed in reality. It is one of the most famous horror films and it has had a significant impact on the genre, inspiring a line of sequels and influencing many other films.
The Miss Krueger costume comes with a striped red and brown dress that has a ripped design where the stomach is. The costume also comes with a matching brown hat with a black ribbon. Also, it includes Freddy's iconic knife glove to complete the full look.
4. IT
Pennywise the Clown is among Stephen King's most iconic creations. Since his appearance in 1986's horror epic 'It', the killer alien shapeshifting entity has terrorised both avid readers and cinemagoers. This is the version of Pennywise made famous by Tim Curry's portrayal in the 1990 film adaptation of the novel – complete with faithfully-reproduced orange bobbles, purple and turquoise sleeves and a shock of bright red hair.
The costume comes in the form of a jumpsuit, a mask and a set of gloves. If you'd like to complete the look, then you can do so with an iconic blue balloon. Everyone at whatever Halloween party you attend is sure to give you a wide berth – particularly if you insist on periodically grinning and saying 'beep beep'.
"What happens when another Georgie goes missing?" You decide as you're IT! Shape-shift your way into Pennywise's clown costume and hunt down your choice of "Losers' Club"… Just don't wait another 27 years to strike again! This brilliant mens outfit comes complete with Top with ruffles and 3/4 mask.
5. The Shining
Bloody Murderous Twin Costume, from the iconic horror film The Shining, the Grady twins can be reborn with this fantastic costume.
This scary Ladies' outfit comes complete with a Blue and White, Blood Stained Dress with Bow Detail, Blood Stained Socks and a White Headband with Bow to finish off the look.
6. The Nun
The Nun Deluxe Costume. Haunt a cloister near you in this scary habit! Re-enact scenes from The Nun movie and listen to your audience scream. If you belong to an order with an unholy secret, this is your invitation to be demonic and go… out of order! This terrifying outfit comes complete with a Black and White Habit and Latex Mask to finish off the look. A must-have for Halloween!
The Nun 3/4 Mask. Before Annabelle, there was The Conjuring. And before that came The Nun… Get into character in moments with this handy wimple and cape made to frame that ghoulish grin… This terrifying mask is ideal for anyone looking to dress as the scary demon. It comes complete with a latex moulded mask with hood.
7. Child's Play
Halloween Men's Chucky Child's Play Fancy Dress Costume. 2019 sees the re launch of an 1980's classic horror film Child's Play 2, this version brings this iconic horror film right up to date with Buddi the doll who is an interactive friend for Andy.
The costume comes complete with blue dungarees with kids toy print all over, front pocket with the words 'GOOD GUY'S' printed on the front of the pocket, big red buttons on the front and embroidered chucky logo. To finish of the out fit comes with the iconic stripped long sleeved top.
Halloween Ladies Chucky Child's Play Fancy Dress Costume.
The costume comes complete with blue dress with kids toy print all over, front pocket with the words 'GOOD GUY'S' printed on the front of the pocket, big red buttons on the front. To finish of the out fit comes with the iconic stripped short sleeved top.
8. The Purge
This incredible The Purge, Anarchy, God, Injection, Halloween, Horror, Mask is a must-have for anyone looking to dress as a member of the psycho Purge films!
This horrific The Purge Anarchy - God Injection Mask is White with 'GOD' Design.
This amazing mask is a perfect version of the iconic mask worn by the God Purger in The Purge: Anarchy. In order to retain all of the details of this amazing mask, it is made using injection moulded plastic.
9. SAW
Men's Halloween Fancy Dress SAW Stand Out Suit. fan of the brilliant horror franchise SAW, this suit is for the perfect fan.
The costume is a license suit from the stand out range, comes with jacket, trousers and tie in the same SAW fabric, blood splatters and the word SAW all over.
SAW Billy Costume. With mask and bow tie in place, your job is to let the victim know what fate awaits them this Halloween… trick or treat? Fans of the 'Saw' movies will get a chill when they see you walk in as Billy, the Jigsaw Killer's creepy messenger.
Our Stores
We have a brand new store in Bournemouth Town on Commercial Road which is bigger and better then all our other stores! We also have a Queensway store in Southampton, Castle Lane Store in Bournemouth and our Poole Store in the Dolphin Shopping Centre! Don't forget also if you are local and would like to reserve an item then you can purchase anything online on our website and collect in store! Equally, if you cannot make it into one of our stores because your schedule is too busy, that's not a problem either! Just shop online, on our fast and even more efficient website! Buying online has never been so easy and safe on our secure site! Furthermore, browse thousands of fancy dress outfits and make sure you choose the one that's perfect for you!
All off our stores are completely kitted out with everything you could possibly need for Halloween 2019! Make sure you come into Hollywood Fancy Dress now or go online to find your outfit, accessories or balloons!
Hollywood Fancy Dress
31-35 Castle Lane West
Bournemouth
Dorset BH9 3LH
HOLLYWOOD FANCY DRESS
102 Commercial Road
Bournemouth
BH2 5LR
Hollywood Fancy Dress
Unit 84
Dolphin Centre
Poole Town Centre
BH15 1SZ
Hollywood Just For Fun
31-37 Queensway,
Southampton Town Centre
S014 3BL